Checking Your Torrent IP Quickly and Easily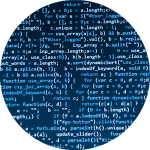 In the world of the Internet, your IP works like a digital fingerprint.
Using BitTorrent clients don't guarantee your privacy during torrenting, and you'll need to check your torrent IP.
In this guide, we'll show you how to check your torrent IP quickly and easily, and how you can hide it using a vpn for torrenting.
This ensures that you stay safe when downloading that Game of Thrones torrent or other shows, movies and music.
Furthermore, if you're unhappy with your torrent client or need detailed information about torrenting, then our Torrent Guide should help you out.
At BestVPN.com we do not condone any illegal torrenting or activities. This article is purely for informational purposes on how to check your torrent IP address.
Check Your Torrent IP Address
If you'd like to check your torrent IP, here's how to do it quickly and easily. This way you can make sure your VPN is working as intended, and you're not having any issues.
Go to one of the sites below. We're using IPMagnet for demonstration as it's the fastest, but DoILeak will give you more information.
Click and download the Magnet link, and open it using your favorite torrent client.
After a few seconds, you can check your torrent IP and your browser IP as well. Hopefully, the results will be what you're expecting.

If you keep the tracking link in your download list, you'll also be able to check your torrent IP in the future, by going to Trackers.
DoILeak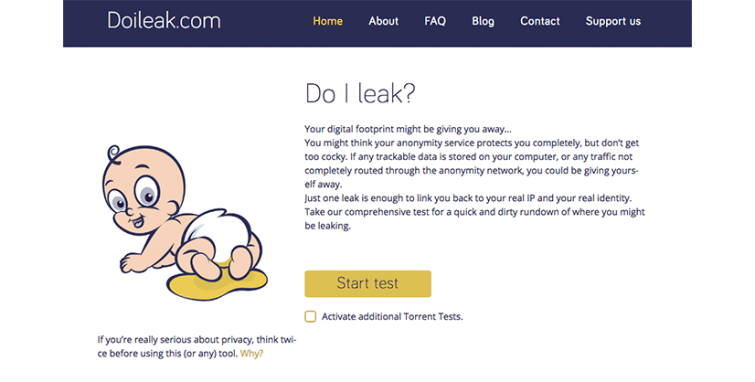 DoILeak has a flat-styled mobile-compatible website made for checking out what sensitive data are you leaking while browsing. A leak can be any information that can trace back to you reveal your true identity.
DoILeak gives a fantastic review by running IP-address checks to test regular leaks but also can check torrent IP leaks. This test can be useful whether you are using a VPN or a proxy to reach the web. The review consists of your IP location, the browser you use, your DNS server, the IPv6 address and much more things.
CBCDN – IPMagnet

CBDev/CBCDN is very good at hiding their identity, but from what we could discover they are a computer sciences student who creates code as a passion without alternative motives. This also means that the code for the IPMagnet is freely available for GitHub.
With all of these tools just click the download link and it will open up in your torrent client (both IPMagnet and IPLeak provide you with magnet links). The torrent will never download as it needs to monitor your IP. You can view your IP from the client itself, as in the image below, or monitor it on the website.
With the website monitoring, you have the advantage of being able to check your torrent IP history. This is great because it allows you to notice if there are any issues, discrepancies or in the extreme if your VPN has stopped working. ipMagnet also tells you the torrent client you're using.
AirVPN – IPLeak.net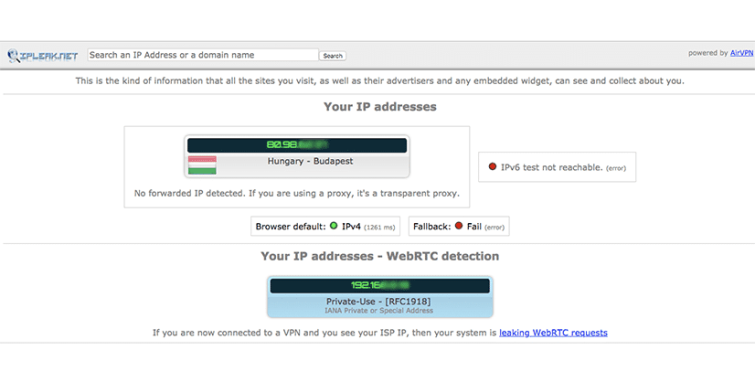 AirVPN's IPleak website is fantastic, and we often use it as part of our processing in checking the safety and security of VPNs.
The torrent checks part of the website works in exactly the same manner as for ipMagnet, except instead of showing the client you have it shows the port you're using. Unfortunately, unlike ipMagnet this isn't open source. On a huge plus, though they display extensive information of what is freely available to websites about you, this ranges from simple IP and DNS leak test to Plugins, Mime and Google+ accounts.
TorGuard – Check My Torrent IP Address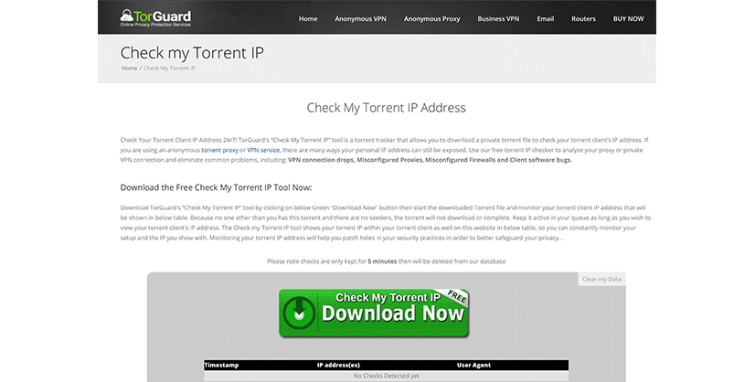 Of all the Torrent IP Check tools listed here TorGuard probably the worst but it works just the same as the previous three.
Unfortunately, it doesn't show your IP history, there is no added value, and it is overloaded with an advertisement of TorGuard.
Hide Your Torrent IP
If you'd like to extend your security level, we advise you to use one of the Best VPNs for Torrenting. These services protect you from many issues surrounding the world of torrenting. Whether you're trying to hide your torrent activity form your ISP (Internet Service Provider), or just trying to stay more secure online, a VPN is always a good call.
Of course, a VPN isn't useful if your IP address is showing up while your downloading files online. Therefore, use the method above to constantly check IP with your BitTorrent client/software.
Conclusion on Checking Torrent IPs
These tools may help millions of BitTorrent users to check the security of their VPN/Proxy connection and protect their privacy. Your anonymity is a key issue that's worth testing and fighting for!
If you're looking to stay secure whilst torrenting, take a look at our best VPN for torrent sites guide.